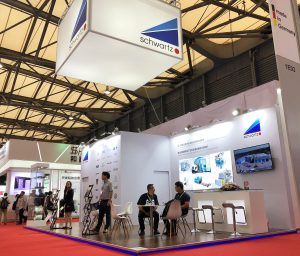 Aluminum China 2018 Exhibition was held from July 11th to 13th at Shanghai New Exhibition Center. The annual trade fair attracts over 600 domestic and overseas aluminum manufactures, OEMs, material suppliers and related enterprises from 30 different countries. At Hall W1, schwartz HTS presented its latest products and technologies of customized heat treatment system for aluminum to the international audiences.
schwartz focuses on automotive light weight design and offers customized furnaces for  aluminum blanks, forgings and castings like forged wheels, car suspension parts and other car components. The schwartz HTS team enjoyed the opportunities to exchange about processing needs for forging, casting and the heat treatment of blanks in aluminum field with our prospects and business associates.
With the schwartz manufacturing plant near Shanghai, two sales offices in Shanghai and Beijing as well as with the three service centers,schwartz HTS is ready to provide high quality and high standard heat treatment systems and support all regional business partners to accommodate the current trend of light weight vehicles.