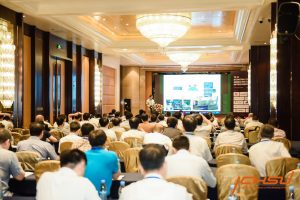 The 4th international Conference on advanced high strength steel and press hardening was held on Aug 20th to 22nd in Heifei, PR China. It was a grand academic convention around material, process, equipment research and market service of high performance sheet metal.
Accordingly to the rapid growth of the hot stamping industry in China, over 500 visitors participated. Over 30 enterprises including schwartz presented at exhibiting area and gave speeches at the Enterprises Forum.
Harald Lehmann, Sales Director of heat treatment systems for press hardening at schwartz GmbH and Calvin Wang, General Manager of Brickwater HK Ltd., were offering their common speech "Newest development in heat treatment for press hardening incl. in-site creating tailored properties".