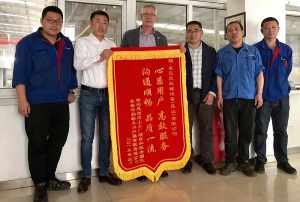 Recently Huaxiang bought a second hand heat-treatment plant from Huaxin for a hot forming plant in its new location in Changchun. As schwartz had already made installations and commissioning for several new lines in the Huaxing group, Huaxing also trusted schwartz for such relocation project.
Mr. Lin GaoChong, General Manager of Huaxiang stated: "The schwartz team has done a very good job, from the beginning until site acceptance test and production support, better than other suppliers." Moreover he mentioned that "the relationship between the schwartz team and their own staff is very good and a real partnership."
Mr. Lin handed over a banner as a token of appreciation for the professional project execution to schwartz' General Manager Mr. Mierswa and Service Manager Mr. Sun Zhou.
Now the Huaxiang group has nine hot-stamping lines with schwartz furnaces in operation at various locations across China and one line with a schwartz thermo printer for producing parts with multiple hard/soft zones.