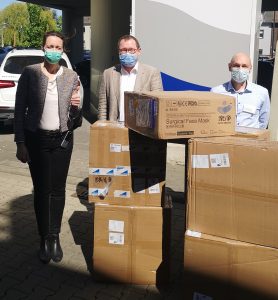 Since last week, face masks are mandatory in Germany. From now on, people have to cover their mouths and noses when shopping or using public transport.
For weeks, people working in hospitals have been particularly at risk. schwartz also wants to express its social commitment to help stem the spread of the corona virus and donated 8,500 surgical masks to the hospital in Dueren.
Alexander Wilden, owner of the schwartz group, personally handed the protective masks to the manager of Dueren Hospital, Mrs. Kathleen Büttner-Hoigt. She thanked warmly for the generous donation.