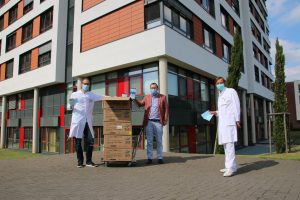 schwartz has made another donation of surgical face masks, this time to the Rhein-Maas Clinic in Wuerselen/Germany.
Last week, Alexander Wilden, owner of the schwartz group, personally handed over 5,000 surgical face masks to Rhein-Maas Clinic's medical director Prof. Dr. med. Georg Muehlenbruch (left) and to Prof. Dr. med. Hans-Oliver Rennekampff (right).
The clinic and its staff who will be using the face masks expressed their heartfelt thanks for this generous donation.