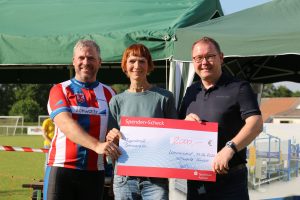 After a two-year break it could finally take place on 11 June in its 5th Edition : schwartz's MTB Challenge – Pedaling for Charity.
During this four-hour challenge, schwartz donated one euro for each completed small lap (4 km) and 2 euros for each big lap (7 km). There was also a happy hour during which all laps completed counted double! 111 participants completed a total of 1400 laps. This resulted in a total donated amount of 2,000 €. The proceeds will go to the Simmerath Youth Café.
We would like to thank the many participants and helpers who took part in this joint event of TuS Lammersdorf and the schwartz group!