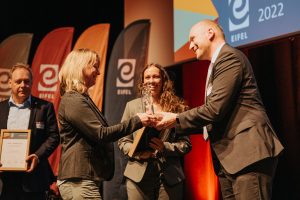 schwartz GmbH was honored with the EIFEL Award 2022 by 'Zukunftsinitiative EIFEL'.
This year's EIFEL Award was presented at the Triangel Culture, Conference and Exhibition Center in St. Vith in eastern Belgium. The award went to companies that have one thing in common: they are particularly good at securing and retaining skilled workers. The EIFEL Award 2022 recognizes companies that have been implementing exceptional ideas since 2018 and have proven to be an attractive employer with a workforce-oriented approach to human resources development. The detailed application form for the EIFEL Award asked questions about both hard and soft factors, and the answers ranged from a supportive, family-like working atmosphere and innovative recruiting methods to tangible, material benefits.
It was a great evening with a festive atmosphere at the Triangel Center in St. Vith. We are delighted with the award and congratulate all the companies that received it.
Foto © Eifel Tourismus – Atelier Felicida Foto