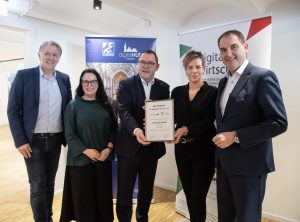 The schwartz group is the 500th member of digitalHub Aachen since February 1, 2023!
The digitalization center of the digitalHUB Aachen brings together startups and IT SMEs with classic SMEs and industry as users in the digitalCHURCH to jointly develop and realize new digital business models.
On the occasion of her visit to the Aachen Collective Incubator as part of her GreenTech Tour, Mona Neubaur, Minister for Economic Affairs, Industry, Climate Protection and Energy of North Rhine-Westphalia, congratulated on the 500th membership.
We are very happy to be the 500th member and to continue our journey into digitalization within the HUBjourney together with the digitalHUB Aachen.
Auf dem Foto (von links): Udo Glaser, Iris Wilhelmi, Alexander Wilden, Mona Neubaur, Dr. Oliver Grün
Foto © RWTH Aachen University / Heike Lachmann