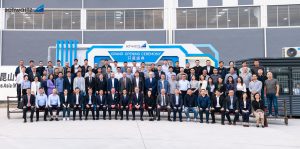 On Friday, October 27 the schwartz Gigafactory, the new plant of our Chinese subsidiary schwartz HTS in Zhangpu Town Kunshan, PR China was inaugurated with a festive ceremony.
Alexander Wilden, owner and CEO of the schwartz group, was personally on site to open the ceremony.
Numerous government representatives, business partners and employees were present to celebrate the opening together.